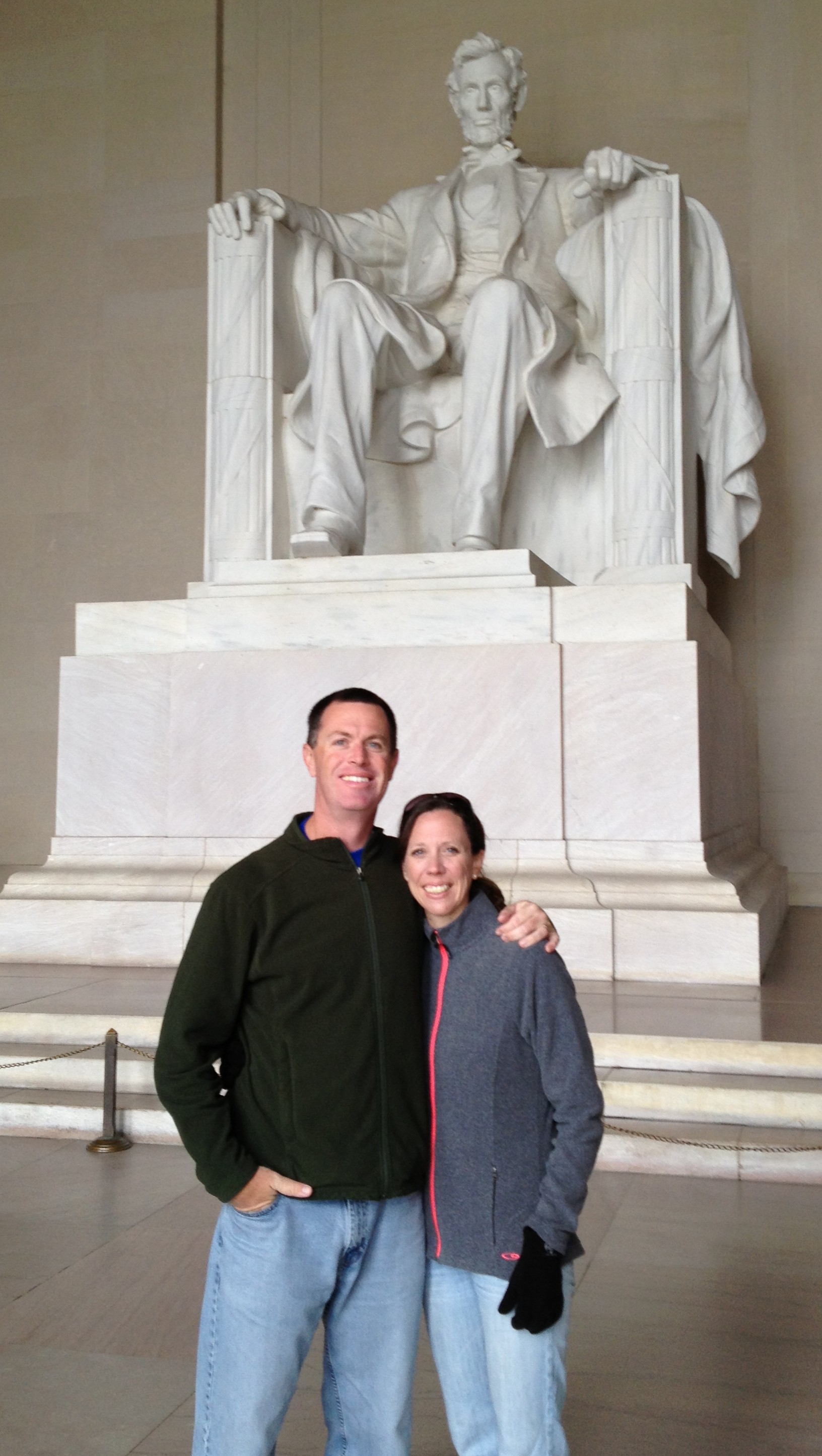 Many of you know that Rob and I traveled to New York City last fall right after Hurricane Sandy hit. We were supposed to fly into LaGuardia, but it was completely underwater. At the time, we thought the NYC Marathon was still on, so we changed our flight and landed in Washington D.C. instead. After I got over the initial concern I felt now that we had to make the 4 hour drive to NYC, I began to get excited. I LOVE Washington D.C., and was hoping we would have time to see a few things before hitting the road. We did, and it was wonderful.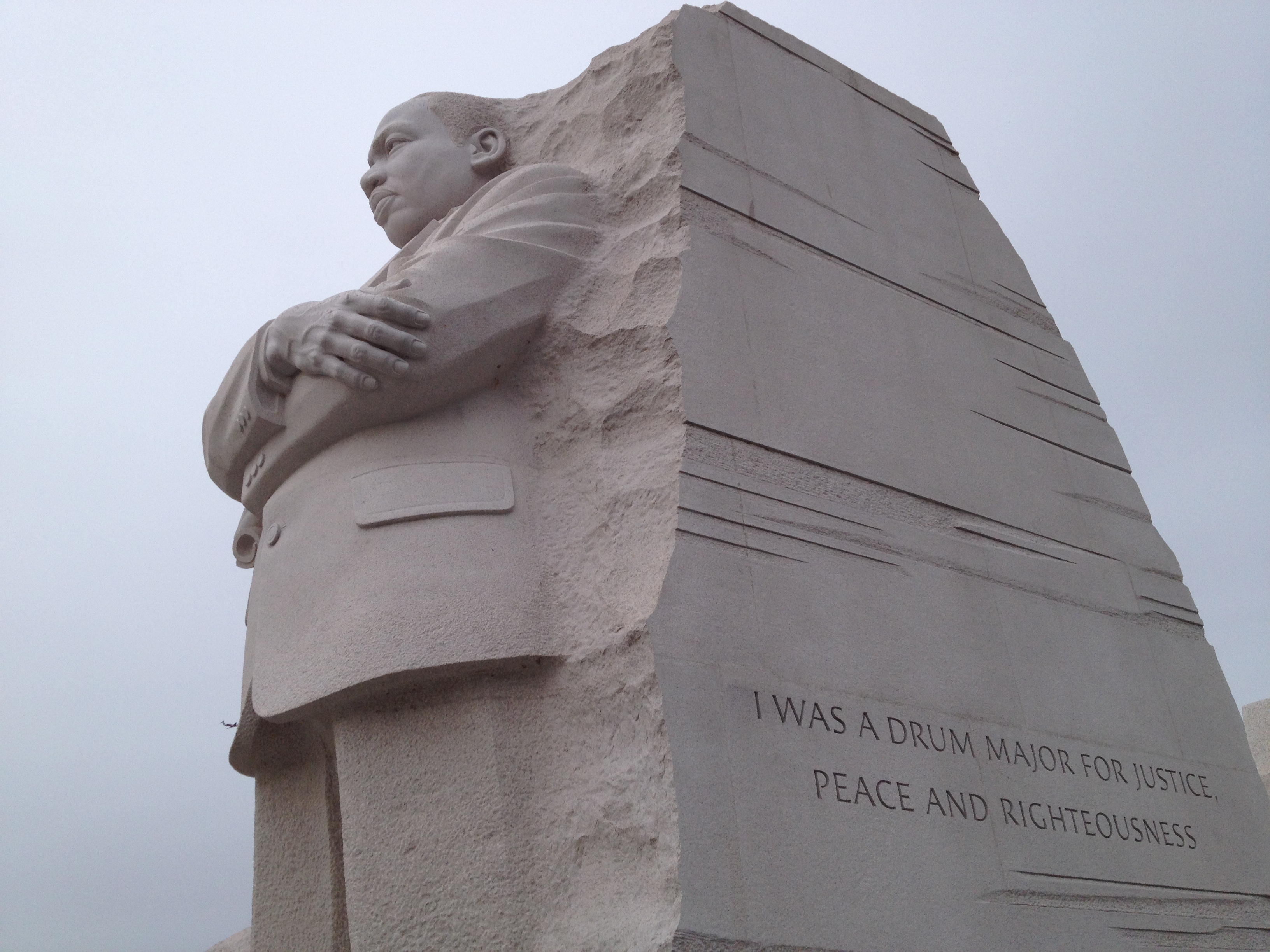 One of the highlights was seeing the Martin Luther King Jr. Memorial for the first time. I was definitely momentarily shocked by its…um…whiteness…but there was no denying that the solid granite monument was beautiful. It was striking in a way that made it quite memorable. Rain started to fall as we took in the powerful words carved into stone, and so we found shelter in the accompanying gift shop. It was there that I found this week's Perfect Picture Book, and brought it home in hopes of sharing some of the experience with my kids.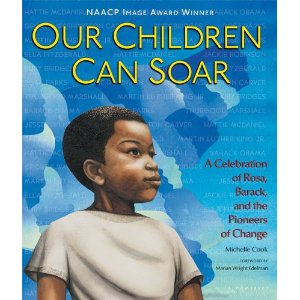 OUR CHILDREN CAN SOAR
Written By: Michelle Cook (Michelle Cook is the pseudonym of a book editor/author who was thrilled to collaborate with Bloomsbury Children's Books to develop this unique text.)
Illustrated By: AG Ford, Bryan Collier, Charlotte Riley-Webb, Cozbi Cabrera, Diane Dillon, E. B. Lewis, Eric Velasquez, Frank Morrison, James Ransome, Leo Dillon, Pat Cummings, R. Gregory Christie, Shadra Strickland
Published By: Bloomsbury Children's Books, 2009
Suitable For: Ages 5 and up
Opening: "Our ancestors fought…so George could invent. George invented…so Jesse could sprint."

Synopsis: (from Amazon) "This gorgeous picture book takes young readers through the cumulative story of the U.S. Civil Rights Movement in poetry and pictures. The illustrations introduce icons like Jesse Owens and Rosa Parks, as well as lesser-known figures in the struggle for equality. Spare prose and vivid imagery make this a truly moving and accessible book that readers of all ages will treasure."
Resources: I LOVED this collection of activities for home and classroom on Shadra Strickland's blog. My favorite one was the encouragement for kids to think about the future, and to continue the story…Obama ran so that I could (fill in the blank). This book can really be a starting point for a great discussion about significant African-Americans in history and their contributions on our country's journey toward equality. There are 11 amazing individuals featured, and each one merits their own study and discussion. The last few pages of the book give a short biography of each person featured, as well as one on each of the illustrators, so the backmatter is a resource of its own. You could choose one or two to talk about more in depth each time you read the book with your children.
Why I Like this Book: I fell in love with this book because of its simplicity. The words are so sparse, and yet so powerful. Each illustration is done by a different artist, and each one is gorgeous. You could easily read this book 11 different times and have 11 different discussions, because each of the 11 heroes featured in the book has their own wonderfully unique story. I especially loved learning about some of the people I was less familiar with, like Hattie McDaniel. Simple, beautiful, powerful…LOVE!
Head on over to Susanna Leonard Hill's blog to see what other picture books are being talked about on this Perfect Picture Book Friday!