Not too long ago, on our weekly visit to the local library, I stepped away from the picture book section to help my son choose some middle grade books. When I returned, my little girls had assembled a stack of titles. These are the books they had chosen:
GOLDILICIOUS by Victoria Kann
SHOE-LA-LA! by Karen Beaumont & Leuyen Pham
PRINCESS BESS GETS DRESSED by Margery Cuyler & Heather Maione
PRINCESS BABY by Karen Katz
BELINDA BEGINS BALLET by Amy Young
ANGELINA AND THE ROYAL WEDDING by Katharine Holabird & Helen Craig
Anyone want to guess the common thread? That's right…every single cover was shiny, glittery, sparkly, princessy, in-your-facessy PINK. Pink and shimmery is clearly a popular way to go with book covers! And it makes sense…most of the little girls I know have had some sort of princess/fairy/ballerina birthday party sometime in their short lifespan. But what happens when a little girl *gasp* doesn't like pink? Since the dawn of Fancy Nancy, I have wondered if the pendulum would ever swing the other way. I wondered if there would be a response to the princess craze in the form of picture book heroines who represent a sort of "anti-princess." Izzy, the main character in today's Perfect Picture Book Pick, is one such heroine.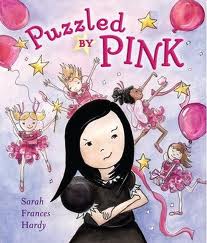 PUZZLED BY PINK
Written and Illustrated By: Sarah Frances Hardy
Published By: Viking Juvenile (April 12, 2012)
Suitable For: Ages 3 and up
Topics/Themes: Individuality, Siblings, Birthdays
Opening: "Today is my sister Rose's birthday party. She's really, really into fairies and princesses and everything pink."
Synopsis: (from jacketflap) Izzy's sister Rose loves pink. In fact, she's planned an all-pink birthday party, where the guests will wear fairy wings and tutus. Not Izzy! She's puzzled by pink, and she's planned her own party in the attic. Her guests will be ghosts and spiders and monster dolls. But when Rose crashes the party and decides to prove that her magic want really works, a surprise guest joins the fun!
Resources: When we read this book for the first time, my 10-year-old son had been listening to the story as well, and his first comment was, "SEE…not every girl likes pink!" He thought Izzy was pretty cool, with her love of monsters and ghosts and all things creepy and crawly. Immediately, we launched into a very basic discussion of gender stereotypes. We asked questions like, "Why is pink a color for girls?" "Is it okay for boys to like pink, too?" and "Would you feel comfortable telling your friends that you did/didn't like pink?" To be honest, I wasn't expecting such a productive conversation to come out of reading this book, so it was a wonderful surprise. I think this story could launch many a discussion about choosing to be yourself in the midst of societal pressures. And on the lighter side, I also found a website that gives you instructions on how to throw your very own Izzy-esque Tea Party. How cool is that?
Why I Like this Book: In this story, we see two very different little girls, each celebrating who they are. Izzy has a bit of a harder time than Rose, since Rose's choices are more the social norm. The very first page illustrates this beautifully, showing the sisters' room…one side drenched in pink, and the other in stark contrast. The sibling interactions are very realistic, each thinking that their way is better, and each trying to make the other see the error of their ways. But in the end, we get the two coming together to deal with the issue of their "surprise guest," and we see that the sisters, though very different, are there for each other. Sarah Frances Hardy has created a charming book that celebrates sisters, and gives us an opportunity to talk about expressing our individuality, even when it goes against the grain. And that, my friends, makes for a pretty perfect picture book!
Please do remember to check out the other selections for Perfect Picture Book Friday, over on the blog of the ever-lovely Susanna Leonard Hill!