The first day of school brings with it a plethora of emotions. For kids, there is usually some combination of excitement and trepidation, anticipation and hesitation, hope and fear. For parents, there is euphoria! a similar mix of emotions. It's no wonder that there have been more than a handful of books written to help all of us get through it. Today's selection for Perfect Picture Book Friday is one of these books…one that handles the subject with a fusion of sweetness and humor that is fun for parents and kids alike.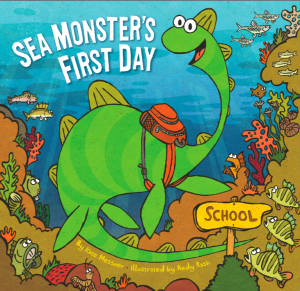 SEA MONSTER'S FIRST DAY
Written By: Kate Messner
Illustrated By: Andy Rash
Published By: Chronicle Books, June 22, 2011
Suitable For: Ages 4-8
Topics/Themes: First day of school, conquering fear
Opening: "This is it," my mother said. "You're a big sea monster now, Ernest. Remember to introduce yourself, play nicely, and use your imagination. I'm sure you'll have lots of fun."
Synopsis: (from jacketflap)

Sea monster Ernest is starting his first day of school. But starting school is a big job! Fitting in when you're a sea monster is tough enough, and there's so much to learn and do—reading, singing, playing hide-and-seek with the fishermen, lunchtime in the algae patch….This funny, charming twist on the worries and joys of starting school will reassure and delight the smallest children and the largest sea monsters alike.
Links to Resources: Sea monsters really are amazing creatures, and what kid wouldn't want to learn more about them? Parenting Science has a huge list of educational resources for kids (and parents, too!) Also, Russell Hawley art has a collection of printable drawings of prehistoric sea creatures that would make great coloring pages.
Why I Like this Book: This book combines the funny and sweet in the compelling tale of this unique creature's fear of the first day of school. Funny, because Ernest's size creates some challenges when it comes to feeling comfortable at school. Marco Polo and hide-and-seek don't work out well for a sea monster, especially when his playmates are fish. And it is sweet because we get to see Ernest learn to make friends and overcome his fears about school. This would really make the perfect book to read to a child who is nervous about going to school!
Please head on over to Susanna Leonard Hill's website to see what other books have been selected for Perfect Picture Book Friday!