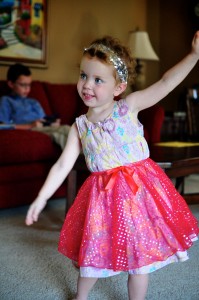 Every little girl has a favorite dress. And most of the time, this steadfast adoration our children have for their beloved garment is a pretty endearing quality. That is, until the day your child decides that there is absolutely no other option in their entire closet, or in this entire world that can be worn on this particular day. It has to be that dress. Which wouldn't be a problem, except that said dress is missing. After much wailing and gnashing of teeth, the dress is pulled out from underneath the bed where it has been in a crumpled heap for days, smelling of the crusty Marinara sauce splashed across the front of it. And then you reach the moment, that pivotal moment, that parent-defining moment, where you have to decide…will you let her wear it?
As a mom of three little girls, I have participated in my fair share of knock-down, drag-outs over wardrobe choices. I think that is why I just love this week's Perfect Picture Book, I HAD A FAVORITE DRESS. There are no stanky heaps of tomato-splattered dress in this book, but if there were, Mama would handle it with ease. The mom in this book is brilliant. I want to be like her! When her daughter outgrows her favorite dress, and starts in with the complaining, Mama comes up with a solution. She SNIP SNIPs and SEW, SEWs, and Voila! The dress is transformed. Complete inspiration.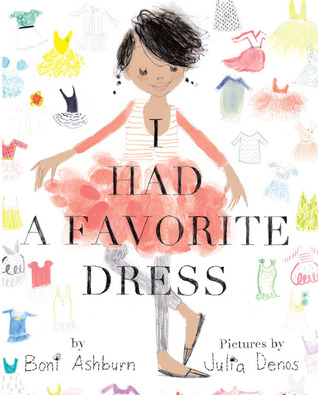 I HAD A FAVORITE DRESS
Written by: Boni Ashburn
Illustrated by: Julia Denos
Published by: Abrams Books for Young Readers, August 1, 2011
Suitable for: Ages 4 and up
Topics/Themes: Creativity, Individuality, Fashion, Sewing
Opening: "I had a favorite dress that was my favoritest dress ever. I wore it every Tuesday, because that was my favorite day of the week."
Synopsis: (from Amazon) Open up a fresh and stylish story about growing up and keeping hold of your favorite memories. As the year passes, the narrator's favorite dress goes through a series of creative changes, from dress to shirt to tank top to scarf and so on, until all that's left of it is a good memory. Assisted by her patient and crafty mama, the narrator finds that when disaster strikes her favorite things, she doesn't need to make mountains out of molehills—she "makes molehills out of mountains" instead! Structured around the days of the week, the story is also illustrated to show the passing of the seasons, a perfect complement to the themes of growing older and keeping hold (and letting go) of special mementos.
Links to Resources: As I was reading this book with my kids, and they saw how Mama transformed the dress time and again, they kept asking me with wonder in their voices, "Mommy, how did she DO that?" It made me think that it would be really fun to do some sewing projects with them. I don't sew much, but I found this blog called Whipstitch that features 5 different projects you can do with kids that introduce them to sewing. It starts with something as simple as making macaroni necklaces, which introduces them to the concept of threading.  Also, the book communicates that making memories of special things in your life is important. So you could choose a certain area of life (school, pets, sports, holiday, etc.) and make a memory book. Artists Helping Children has a great page where they show you how to make a variety of different books.
Why I Like this Book: So many reasons that I have already covered, but I haven't yet talked about the beautiful art in this book, done by the talented Julia Denos. It has a real light and breezy style, one that will have you turning the pages to see what sort of outfit this stylish city girl has on next. I also didn't realize until I read one of the book's reviews, but the story is based on an old Jewish folktale, titled, "The Tailor." Boni Ashburn's writing is a fun read, and she has crafted a fresh, modern story that is sure to capture the hearts of little girls everywhere!
Please don't forget to head over to Susanna Leonard Hill's sassy blog and check out the other picks for Perfect Picture Book Friday!