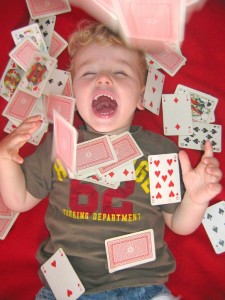 Well, August was a preeetty quiet month here on the old bloggy-blog. I wasn't planning to take the month off, but you know that old saying, "We plan and God laughs?" Yeah, it was like that. I'll spare you the specifics, but let's just say that car repairs, olympic-themed birthday parties, monstrous co-pays, bacteria of unusual strength, and an unexpected education in gut flora were involved.
BUT.
It's time to shake the cobwebs off this little corner of the webosphere and I'm thinking, what better way to do that than with a chance for all you writerly types out there to WIN something? Now before you get too excited, I'll admit that it is not a big something, just a little something, but it's about all I can offer right now, at least until the Lactobacillus Acidophilus kicks in.
Right now you may be asking yourself, "What does a friendly microbe like me have to do to WIN this little something?" Well, if you are interested in winning a PICTURE BOOK MANUSCRIPT CRITIQUE by me, there are two ways you can enter! One, you can subscribe to my blog (see that over there on the right?) and leave a comment on this post letting me know that you did so. And/or, you can Like my Author Page on Facebook and leave another comment telling me you did it on this post. (It is essential that you leave the comments, since I will use random.org to select the winner from the comments!) And if you are already a subscriber and FB liker, then let me know that in the comments and you can win too!
You can enter up until this Friday, September 7th, at midnight Pacific time, and I'll announce the winner next week! Until then, friends, I toast to you with my cup of yogurt raised high. Cheers!