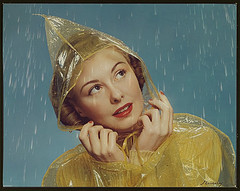 So it rained at our house yesterday. In June. Just the day before, it was 95 degrees. Maybe for those of you in more tropical climates, this wouldn't be unusual, but for us here in Central California, it was WEIRD. And you might think that I would have been relieved that it was cooler, and I didn't have to run my expensive air conditioner, but for me it was just one more piece of evidence that something out there in the universe was trying to beat me down.
You see, we are busy. You know, BUSY…that thing that just sort of descends from the heavenlies…that we claim to have no control over…that entity we use as an excuse for every bit of tired, cranky behavior…that thing we complain about incessantly? THAT'S the thing I'm talking about. And I have been whining about it leading up to this week, knowing that it is the last week of school and that means class parties and award ceremonies and kindergarten graduations and teacher gifts and somewhere-to-be-at-every-free-moment. And on top of that we are getting ready to leave for Catalina Island, where we have to pack for boat rides and no electricity and community bathrooms and well, the DIRT. And then Gracie got sick and passed it on to Lily, and then of course who knows who's next, which means fevers and aches and more whining. And then we came home today and it was RAINING and the freak wind knocked down ANOTHER tree in our yard (see first tree here) and now, instead of getting the kids to bed we have to figure out how to get this gargantuan tree out of here so our neighbors can drive down the street and won't hate us. And as I was pulling on my gloves and getting ready to haul some branches, I got a text from a neighbor.
"I saw your tree! What can I do to help?"
And another text.
"I'm so sorry about your tree! We started trying to cut it up for you before you got home, but had to stop because of the rain."
And in that moment, I had a revelation:
I am an idiot.
I am complaining about award ceremonies and class parties? I should be celebrating that my kids go to an amazing school with wonderful staff and committed teachers, where they are challenged to do well and praised for their hard work.
I am whining about packing for a trip? I should be grateful for the opportunity to show my kids another gorgeous slice of God's creation, and for the finances to make it happen.
I am fretting over fevers? I should be on-my-knees-thankful that my family is in excellent health, with great medical care, and that we have job flexibility to be able to stay home and take care of our kids when they are sick.
I am troubled by toppling trees? (I'm a picture book writer! I alliterate!) I should be blown away by the gift of this home, my neighbors and friends who send me texts and come hack away at my fallen tree, and my community.
So yes, it rained. And it was weird.
But it washed away the busy.
And it poured blessings.
And that's the kind of rain I'll take in June, or any other time of year, always.