Family Vacation. Unlike the Hollywood portrayal, our vacations have not yet included hotel robberies, assaulting a moose named Wally, or off-roading in the beloved Family Truckster. (Although I will say that if 'ol Sparky was planning a road trip in 2012, he would surely be driving something that resembles our current mini-van.) But we have had our fair share of family road trips where the destination was a beloved national treasure, like our recent trip to the world's largest box of raisins.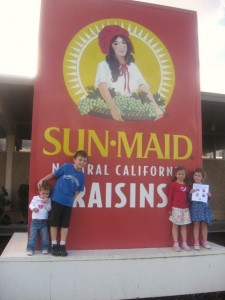 What… not on your bucket list?
Well I would bet that many of the wonders talked about in this week's Perfect Picture Book, THE BUNYANS, actually are on your list of places to visit someday…Mammoth Cave, Bryce Canyon, Niagra Falls, and Big Sur to name a few. In this fanciful continuation of the Paul Bunyan story, we meet his wife and two kids, and find out that Paul was not alone in his ability to make a mark on the North American landscape.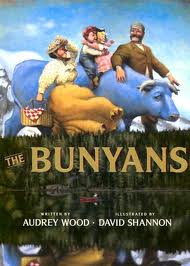 THE BUNYANS
Written by: Audrey Wood
Illustrated by: David Shannon
Published by: The Blue Skye Press, 1996
Suitable for: Ages 4 and up
Topics/Themes: American folklore, Tall Tales, Legends, Geography, National Landmarks
Opening: "Storyteller's note: Now I suppose that you have heard about the mighty logger Paul Bunyan and his great blue ox named Babe. In the early days of our country, Paul and Babe cleared the land for the settlers, so farms and cities could spring up. And you probably know that Paul was taller than a redwood tree, stronger than fifty grizzly bears, and smarter than a library full of books. But you may not know that Paul was married and had two fine children."
Synopsis: Come along with Paul Bunyan, his wife Carrie, and their two children, Little Jean and Teeny, as they travel through North America and leave in their wake some of our most unique landmarks.
Links to Resources: Scholastic has a wonderful lesson plan for this book available on their website. My favorite part of their lesson plan is to put a giant map on the wall and spend time going through each landmark in the book and placing it on the map. This would also be a great book to read before you head out on any family road trips, as you could examine the plausibility of each "explanation" for how the landmark came to be. You could then do some research with kids to find out the REAL explanations for how these places were formed. I also loved Audrey Wood's take on the collaboration process with David Shannon, found on her website here.
Why I Like this Book: First I have to say that if you are a fan of David Shannon's artwork, you are going to be blown away by this book. Check out this picture of The Bunyan's daughter, Teeny, bathing in the newly created Niagra Falls:

If you have an extra $3200.00 lying around, you can buy this original, autographed art!

Pretty great, huh? The creativity of both Audrey Wood and David Shannon in this book is really inspirational. My favorite part? When Ma Bunyan gets tired of finding hot water to do their gargantuan dishes and laundry. The result? Old Faithful. There is also a shot of a retired Paul and Carrie Bunyan playing croquet in Arches National Park. Hilarious. I mean, it's no giant box of raisins, but it will do…
See what else is cooking over at Susanna Leonard Hill's blog on this Perfect Picture Book Friday!