Class parties, award ceremonies, and the hunt for teacher gifts all mean that the end of the school year is upon us. Summer is approaching and along with the swimming, travel and general good-time-having of the season, comes the dreaded California Central Valley heat. And along with the constant sweating comes something that for me is the worst part of the heat, and even more dreaded than the usual 20 consecutive days over 100 degrees…the BUGS…crawling, flying, twitching, skittering, buzzing, biting, and worst of all, trying to escape the heat by finding their way into my home. It takes only a single sighting of one of these stray creatures to send me into ultra-panic-bug-hunter mode. What are they? Where are they coming from? How many are there? Batten down the hatches! Seal the doors! Back away from the spray bottle, I'm going in! (side note: tea tree oil mixed with water has proved to be an effective natural bug repellent)
So I can relate to the poor community of Itching Down in this week's Perfect Picture Book. They are invaded not just by bugs, but by ones of the stinging variety. WASPS! And their most clever solution to a giant pest problem makes this one of my favorite picture books of all time.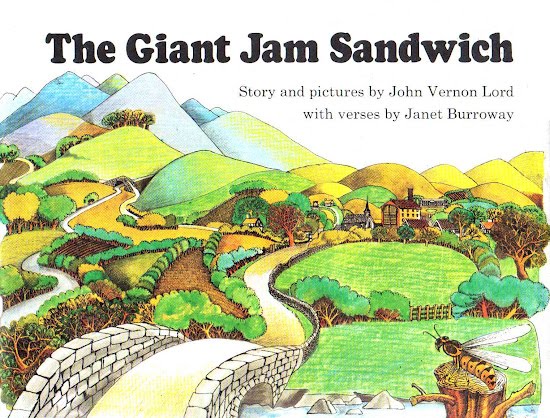 The Giant Jam Sandwich
Written By: John Vernon Lord and Janet Burroway (the story behind how they ended up writing this together is fascinating and a must-read for picture book writers!)
Illustrated By: John Vernon Lord
Published By: Houghton Mifflin, 1972
Suitable for: Ages 4-8
Topics/Themes: Insects, Wasps, Problem-solving, Humor, Rhyme
Opening: "One hot summer in Itching Down,
Four million wasps flew into town.
They drove the picnickers away,
They chased the farmers from their hay,
They stung Lord Swell on his fat bald pate,
They dived and hummed and buzzed and ate,
And the noisy, nasty nuisance grew
Till the villagers cried 'What can we do?'
So they called a meeting in the village hall,
And Mayor Muddlenut asked them all,
'What can we do?' And they said, 'Good question!'
But nobody had a good suggestion."
Synopsis: When four million wasps invade the town of Itching Down, the villagers don't know what to do. That is, until the town baker comes up with the perfect trap…a giant sandwich filled with jam!
Links to Resources: This book has been around for 40 years, so there are a lot of resources out there. Homeschoolshare.com has a very thorough lesson plan that includes a unit study on wasps as well as a homemade bread recipe! There is also a lesson plan on Teachers.net that covers pre-reading and discussion questions, as well as activities, including something called "The Super Silly Sandwich Song!" My favorite thing I found though was a website called, "Fictional Food," where they attempted to make a Giant Jam Sandwich!
Why I Like this Book:  This book is a slice of my childhood.  And I would guess some other babies of the 70s remember this one too, yes?  I giggled at the sight of the villagers trying (and failing!) to rid the town of the wasps. I loved the part where they baked the loaf of bread as tall as a building, and then had to build scaffolding to get high enough to cut it. I watched in wonder as they used tractors to push butter and jam all over the enormous bread. And then I cheered with them as they trapped those nasty wasps inside the sandwich. It is funny and fascinating, and shows how a town can pull together to solve a GIANT problem. The rhyme in this book makes it a super-fun read aloud, and the illustrations are the type where you see different things each time you look.  This perfect picture book is most definitely one of my favorites!
Please remember to head on over to Susanna Leonard Hill's website to check out more Perfect Picture Book selections this week!