If you've read my blog for even a short while, are my friend on Facebook, Twitter, Pinterest, or any of the other kajillion social media sites out there, then you know that I talk a lot about two things: picture books and running. (Okay, and my cuter-than-you-would-think-humanly-possible-kids, so make that three things that I talk about in a totally unbiased way.) And I am about to start a new feature here, On Tuesdays, where I will talk even more about writing and running and probably a bit about those charm-your-gumboots-off kiddos as well. (hint, hint….come back on Tuesday!) So I can't imagine how it took me so long to discover this week's simply fascinating, based on a true story picture book about a runner. And not just any runner. An ultramarathoner. Did you know that they call anything more than a marathon an ultramarathon? Three miles more than a marathon = ultramarathon. Ten miles more than a marathon = ultramarathon. The Pumpkin Runner? He ran FIVE-HUNDRED-FORTY-TWO miles. I think he deserves a few extra "ultras." So join me as we take a look at the story of Joshua Summerhayes, the ultra-ultra-ultra-ultramarathoner, aka, THE PUMPKIN RUNNER.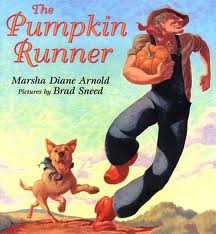 THE PUMPKIN RUNNER
Written by: Marsha Diane Arnold
Illustrated by: Brad Sneed
Published by: Dial Books for Young Readers, September 1998
Suitable for: Ages 4-8
Topics/Themes: Running, Pumpkins, Australia, Individuality, Fair Play, Generosity
Opening: "Nearly all the sheep ranchers in Blue Gum Valley rode horses or drove jeeps to check on their sheep. But Joshua Summerhayes liked to run…with Yellow Dog trailing behind him."
Synopsis: (from jacket flap) "For fifty years, fueled by the pumpkin from his special pumpkin patch, Joshua has been running to check on newborn lambs and rescue injured sheep. Folks say he's getting too old to run around a ten-thousand-acre ranch, but Aunt Millie knows better. 'As long as he's got pumpkins to eat, he'll keep running,' she says. Then Joshua hears about the Koala-K, a race from Melbourne to Sydney. With Yellow Dog at his side and Aunt Millie cooking up his favorite pumpkin dishes, Joshua figures they can 'see two cities and get in a little run as well.' People laugh when old Joshua shows up in his overalls and orange gumboots, calmly nibbling a slice of pumpkin. But before long, folks start to take notice…especially Damien Dodgerelle, who everyone says is a shoo-in to win."
Links to Resources: Marsha Diane Arnold (who I have featured before here) has a wonderful activity guide on her website here. It provides some great discussion questions about subjects such as cheating, perseverance, and health. She also has a quite interesting "story behind the story," which introduces you to Cliff Young, the real-life runner upon whom the character of Joshua Summerhayes is based. I also found a lesson plan for this book at Aussie Pumpkin Patch which had some activity sheets that would be great for a study of Australia.
Why I Like this Book: This story is such an interesting combination of fact and fiction! It reads much like a tall tale, and as I turned the pages, I found myself marveling over the reality that there was indeed a 61 year old man who ran and won this race! Marsha Diane Arnold and Brad Sneed have crafted this story beautifully through their spot-on combination of words and art, with just the right amount of humor and suspense. Aunt Millie and her pumpkin stew, Yellow Dog, orange gumboots, hot air balloons, and a shady competitor named Damien Dodgerelle make for memorable details that kids are sure to love. And I love to see longer picture books like this one still on the shelves, as this is one that both my 7 and 10 year old kids find simply fascinating.
Please go on over to Susanna Leonard Hill's blog and see what else is happening on Perfect Picture Book Friday. And don't forget to come back On Tuesday and check out what I've got cooking here!