There are some words that are just fun to say. HOPSCOTCH.  JAMBALAYA. SASSAFRAS.  PUFFIN is one of those words. So when I found this wonderful book where the word PUFFIN appears on every page, I couldn't help but pick it up.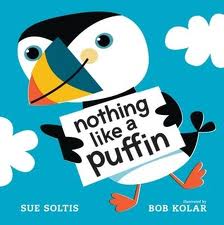 NOTHING LIKE A PUFFIN
Written by: Sue Soltis
Illustrated by: Bob Kolar
Published by: Candlewick Press, September 13, 2011
Suitable for: Ages 4 and up
Topics/Themes: Animals, Concept/Educational (compare and contrast)
Opening: "Look, a puffin! What a marvelous creature, one of a kind and amazing. Indeed, there is nothing like a puffin."
Synopsis: (from Amazon) A puffin is an amazing creature. It's completely unique and one-of-a-kind. A ladder is nothing like a puffin. A house is nothing like a puffin. A newspaper is nothing like a puffin. . . . But wait! Who would have guessed? Could these things be more alike than you think? Young children will love following this mischievous puffin in an entertaining exercise in creative classification– and are guaranteed to start looking at everyday things in a whole new way.
Links to Resources: The folks over at Books 4 Learning have put together a great list of teaching ideas to go along with this book, my favorite being the idea of making a comparison chart to find the similarities and differences between different animals. National Geographic Kids also has a great page on Atlantic Puffins that you can use to learn more facts about puffins.
Why I Like this Book: I really love the conversational nature of this book. It throws out questions to the reader, like, "What could possibly be next?" and "Who would have guessed?" The book is just so clever, and I haven't seen anything else like it. It takes two things that are seemingly so different (like a puffin and a newspaper! or a shovel! or a snake!) and finds things that they have in common. So there are lots of things that are something like a puffin. But is there anything that is nothing like a puffin? You'll have to read this adorable book to find out!
Be sure to go on over to Susanna Leonard Hill's blog to see the other choices for this week's Perfect Picture Book Friday!