Naps are funny things. As children, we felt naps were a sort of punishment. You want me to stop constructing this fort out of the entire contents of your linen closet so that I can go lay down in a dark room? Because it's good for me? What did I ever do to you? As adults, there's not a day that goes by that we think couldn't be made better by the addition of a nap. Not one. But it isn't until we have our own children that we discover the true power of the nap. A nap can mean the difference between arches-back-so-you-can't-buckle-him-in-and-you-get-kicked-in-the-face-while-trying-to-WWF-him-into-the-carseat child, and the sits-sweetly-in-the-shopping-cart-and-charms-the-pants-off-the-entire-world child. A nap can mean the difference between a day where you actually get to write, or exercise, or clean (don't you dare clean during the precious nap hours!) or, I don't know…EAT REAL FOOD…and a day where you serve toast and applesauce for dinner. Naps are magical. So you can't argue with the appeal of a book called, THE NAPPING HOUSE. And you won't blame me when I tell you that I want to live there.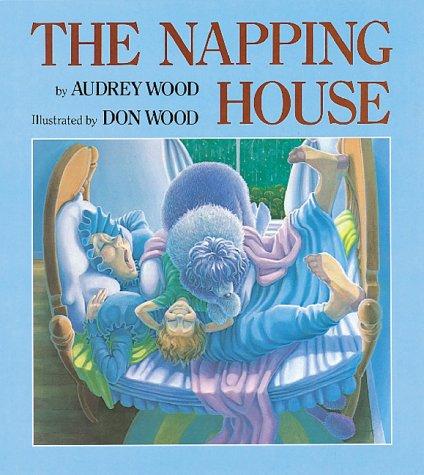 THE NAPPING HOUSE
Written by: Audrey Wood
Illustrated by: Don Wood
Published by: Harcourt Children's Books, 1984
Suitable for: 3 and up (appeals to the preschool set)
Topics/Themes: Family, pets, fun!
Opening: "There is a house, a napping house, where everyone is sleeping."
Synopsis: (from author's website) The Napping House is a cumulative tale about a cozy bed, a snoring granny, a dreaming child, a dozing dog, and a snoozing cat. One by one the characters snuggle up in a pile until a tiny unwelcome guest appears on the scene.
Links to Resources: This is such a beloved book, there are a whole lot of lesson plans out there on the internet! Most of them are designed for preschool aged children. On the author and illustrator's website, there is a whole page dedicated to activities. Scholastic also has a study guide written for this book. Personally, I love the idea of pulling out other fun cumulative classics like, There Was an Old Lady who Swallowed a Fly and The Green Grass Grew All Around.
Why I Like this Book: Audrey and Don Wood have been favorites in our house since our oldest son was born 10 years ago. This book is perhaps the most loved, (followed closely by THE LITTLE MOUSE, THE RED RIPE STRAWBERRY, AND THE BIG HUNGRY BEAR) because of the art. Despite most of the story taking place inside Granny's bedroom, Don Wood manages to make each spread worth closer examination. The wakeful flea can be found in each bedroom picture, and kids love watching him as he moves closer and closer to the sleeping bunch. And the expressions on the faces of the peaceful nappers when they are so rudely awakened are perfect. The cumulative part of the story makes it a fun read-aloud, as my kids like to try to name all of the sleeping animals in order with me.
Don't forget to head over to Susanna Leonard Hill's blog and check out all of the other choices for Perfect Picture Book Friday!