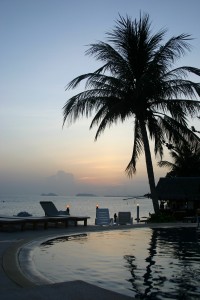 Oh my goodness, can we all agree that it's been a whirlwind of a summer? I always go into summer thinking it will be so nice and relaxing. I picture myself sitting out by the pool sipping tall, icy beverages, reading and writing the day away, while the children frolic happily nearby. Somehow, in the midst of the relief I feel in being released from the strenuous school schedule, I forget a few things. I forget about the stifling heat that summer brings in the Central Valley. I forget that 1600 square feet doesn't offer enough space for 4 bickering children to get a break from one another. And oh, I forget that we don't even have a pool.
What we are blessed with is a large extended family that has both pools and space, and generous, hospitable hearts. So we spent most of our summer traveling…enjoying new places and wonderful family. But when we returned home, I found myself asking as I do at the end of every summer, "What the heck just happened?"
All of that to say, it's been a while since I've been here with you, my lovely readers. So here is a re-cap of what I have been up to over the last couple of months!
My really big news is that I sold another picture book! Yay! SOPHIE'S ANIMAL PARADE is scheduled to come out from Sky Pony Press in the fall of 2014. So very excited to be working with my wonderful editor, Julie Matysik, once again. More updates to come!
I have also been blogging monthly over at the fabulous Voices from the Ville. It is a great blog, covering everything parenting related, from fashion and food to discipline and education. My posts are about, you guessed it, picture books! Here are the links to my contributions, in case you missed it:
Is Your Buffalo Ready for Kindergarten? – Feeling a mixture of delight and dread because summer is almost over? Me too. A blog post from me on the dueling back-to-school emotions, and a book recommendation, too.
WAVE by Suzy Lee – On the fun and frustration of days at the beach with kids.
One Cool Friend by Toni Buzzeo -About those moments when you realize (in horror) that your kids are turning out just like…you.
Bedtime for Mommy: A Book for the Battle – In this wonderful bedtime book, the roles are reversed and a little girl puts Mommy to bed.
So, while my summer didn't turn out exactly as I had pictured it, I would say it was still pretty great. And now I am imagining a cozy-nights-by-the-fire, singing-songs-and-telling-stories, pumpkin-spice-latte-filled Fall. A girl can dream, right?