I get asked pretty often about my take on e-books and whether or not I think traditional publishing is on it's way out. Since I primarily write picture books, I haven't been as worried about the shift in format. I just don't see an app, as awesome as it may be, being anywhere near the same experience as curling up with your child and turning the actual pages of a book. While they are not the same, I am not one who you will hear bashing the e-book revolution. In fact, I see all of the apps and electronic options as a potential motivator for reluctant readers, and as a way to get good stories into the hands of those who might not normally pick up a book. And who knows, if a child who has a negative outlook on reading finds a game that they love based on a book character, then maybe when they see that book in print, they won't be so hesitant to pick it up. With all of that in mind, I want to share with you my kids' most recent app favorite: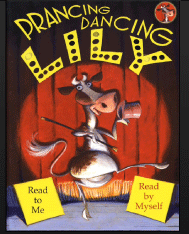 PRANCING DANCING LILY
I have written about my love for this picture book before, and if you need a little reminder, you can read that blog post HERE. So I was absolutely ecstatic when Marsha Diane Arnold asked if I wanted to preview their new app! I have to say that my kids really enjoyed this one. You do get the option to read it yourself or have it read to you, as is the case with most e-picture-books. But the thing that sets this one apart and makes it extra fun is that it has some cool interactive features. My kids were tapping the screen after every turn, trying to see what else it might do. Their favorite pages: one that features a fax machine with working buttons and fax-sending-sounds, and the ones near the end where they could play Lily's drum and ring her cowbell. This wonderful, upbeat story lends itself well to movement and sound, which makes for a super-fun app.
For more of Lily and her dancing cow antics, check out Marsha Diane Arnold's blog, The Story Magician. To buy this app for yourself, head on over to Fat Red Couch and download now!
What about you? What do you think about e-books and their place in the picture book world? What are your kids' favorite apps?