Our culture has a strange obsession with facial hair. Mustaches are popping up everywhere! I've seen necklaces, erasers, even this somewhat disturbing pacifier…and it's not just mustaches. I have friends who are growing out Grizzly Adams type beards with way too much enthusiasm, and then there's this crazy bearded fellow that keeps showing up on my facebook page. Ewww. What is it about facial hair that is so fascinating to us? A quick trip on google informed me that men have been taking a sort of weird pride in their facial hair for generations…dating all the way back to Victorian times. And even more interesting is the history of defacing pictures with the addition facial hair, most famously done by Marcel Duchamp in his piece, L.H.O.O.Q., which depicts the Mona Lisa with a mustache and goatee. There is no denying it…there is just something about facial hair which makes us stop and take notice. Sometimes we draw back in horror, other times we giggle, but it certainly gets our attention. It's no wonder then, that I was drawn in by the cover and title of this week's chuckle-worthy selection for Perfect Picture Book Friday.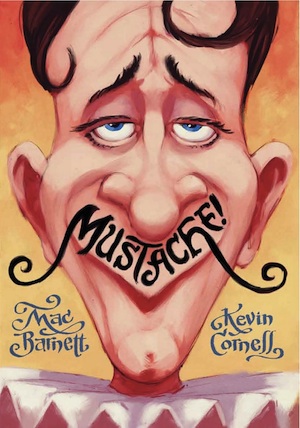 MUSTACHE!
Written By: Mac Barnett
Illustrated By: Kevin Cornell
Published By: Hyperion Books (October 25, 2011)
Suitable For: Ages 4-8
Topics/Themes: Selfishness, Vanity, Compassion, Making good choices, Learning to laugh at yourself
Opening: "Duncan was a terrible king, but he was terribly handsome."
Synopsis:  (from Amazon) King Duncan is terribly handsome, but a terrible king. His kingdom is in ruins, and when his subjects appeal for help, he only builds more tributes to his handsome face. His subjects are finally ready to stand up for themselves, and they have just the plan to get out of this hairy situation.
Resources: So after I spent a couple of hours preparing this post and getting completely sucked into the history of facial hair (seriously! fascinating.), I did a search for resources and discovered that this book had already been covered in the Perfect Picture Book Friday family. Oops. Because I took a little hiatus from PPBF in November and December, I missed it, but the lovely Penny wrote a great review and I encourage you to head over to Penny and Her Jots for a little bonus take on MUSTACHE! She has some great ideas for activities to go along with this book. In addition to those, I would encourage you to go through the book with your kids and find the places where King Duncan had an opportunity to make a better choice but didn't. I did that with mine, and after we found those places we talked about what it means to have compassion, and put the needs of others before yourself. And extra points if you have these conversations while wearing a homemade mustache!
Why I Like this Book: This book clearly falls into the category of majorly silly fun. The illustrations are hilarious and there are lots of hidden treats in them if you pay attention. But one thing I really love about this book is that it has a pretty clear message that is not delivered in a heavy-handed way. It is quite obvious from the beginning that King Duncan is the example to avoid. He is a terribly self-centered king, but in a sort of clueless way that is just the tiniest bit endearing. When the townspeople finally start to act out and get his attention, he is completely baffled by their actions and makes a series of even worse (and of course, funny) decisions. The best part really is the end, when we get to see a smidge of change from the dopey king. I don't want to give it all away, but let's just say that King Duncan learns to not take himself so seriously. Love this book!
Don't forget to head on over to Susanna Leonard Hill's blog and check out the other fabulous selections for Perfect Picture Book Friday!